This week is a little bit different. My usual partner in crime on Mondays, my friend Ivy is on vacation so I didn't get to a movie yesterday. But my kids went to see
Despicable Me 2
with my mom and so I decided to make them the reviewers this week.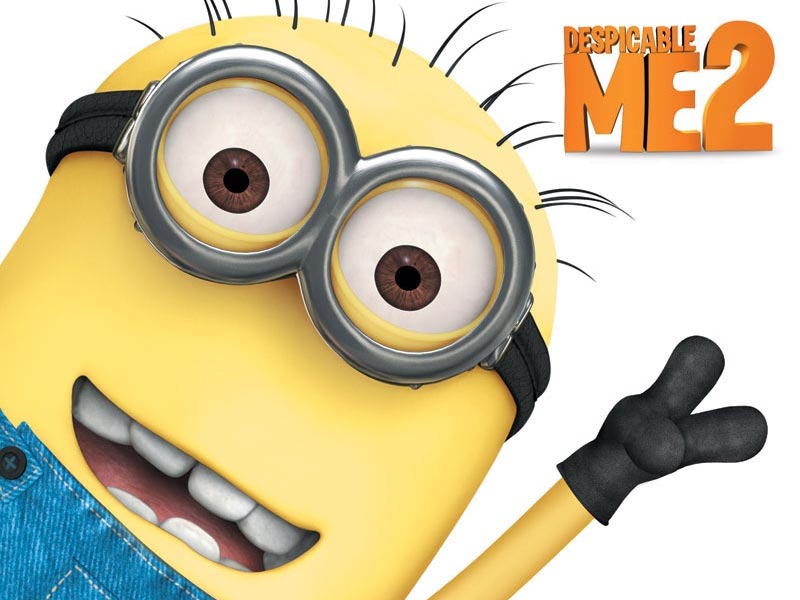 Gru (voiced by
Steve Carell
) is recruited to fight evil with the Anti-Villan League where he meets Lucy (voiced by
Kristen Wiig
). There are new bad purple minions and really bad guy and Gru ends up saving the day and ends up with the girl. OK so I haven't actually seen the movie so I am doing a very short synopsis based on what my kids told me happened. Both my 9 almost 10 year old son Noa and my 5 year old daughter Marley loved it. Marley said her favorite part were what she called the purple aliens (evil purple minions). Noa said his favorite part was the big battle at the end where Gru saves the day and his favorite little yellow minion is Dave (I have no clue which minion Dave is!). Now for the adult take. My mom liked it even though she fell asleep during it. Soooooo make of that what you will. I have to say this was not one of kids summer movies I was excited about, which is why my mom took my kids.
I have no clue what I will do next week since Ivy insists on having a two week vacation and visit with family and abandon me. Maybe I'll bust out and see a movie all by my lonesome or I'll have my hubby be a guest blogger and review Man of Steel.